Please follow how the garden performs month by month.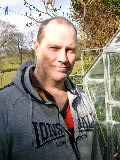 I have a life long interest in plants and horticulture. I started gardening in Macclesfield, Cheshire, in approximately, the year 2000, essentially, cultivating garden and tropical plants from seed. Interest was shown in my plants by Mrs. Hancock, Bluebell Lane, and I was invited to design, grow for, plant and maintain a small cottage garden for her. I grow as many plants from seed as possible, my areas of special interest are foxgloves, poppies and sweetpeas, and other cottage garden flowers. I also specialise in mediterranean and tropical plants. My remit was to create an informal cottage garden, using an abundanceof the colours pink and purple, giving a feminine feel to the garden.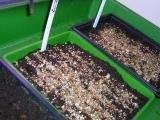 I Start off with seeds, compost and seed trays. My preferred supplier is Thompson and Morgan seeds.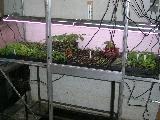 Electronic Growing. I use luminescent light to grow all year round and control plant growth.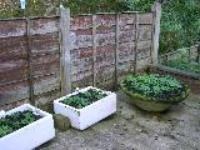 THE GARDEN IN JANUARY AND FEBRUARY. The garden consists of a raised patio area which catches afternoon sun. Antique ceramic sinks and a concrete urn (36") decorate to the left of the patio and planters to the right and rear. Winter primrose and viola establish vegatively, under planted by spring bulbs. The area attracts strong sunlight and copious summer watering is needed.

View down the paved garden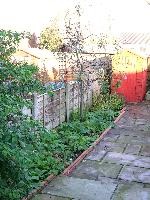 The garden flagged with realistic stone effect slabs and the principle border lies to the left. The border is partially shaded by overhead tree canopies. Plantng reflects this in abundant use of foxglove and woodland plants and bulbs.

View to back of patio and kitchen wall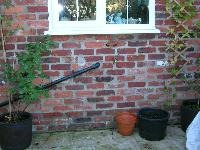 Rose and clematis, grown in planters, decorate the boundary walls of the patio / kitchen.

Dining area (painted cast iron furniture) decorate the view down the length of the garden.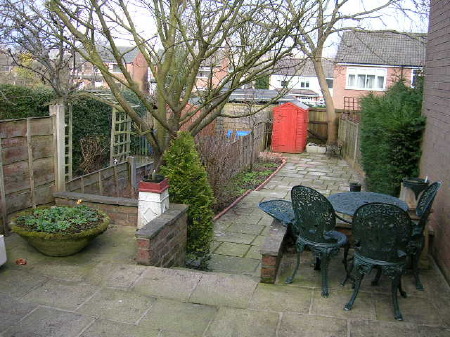 View of the garden in June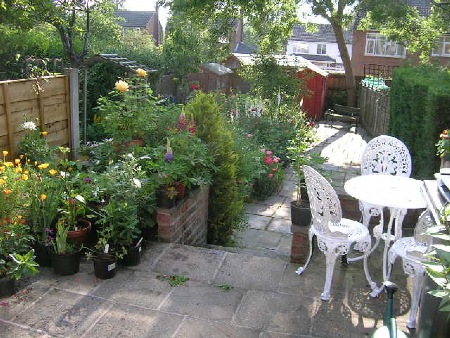 In 2003 I undertook horticultural studies, and in 2007, added studies in tropical agriculture.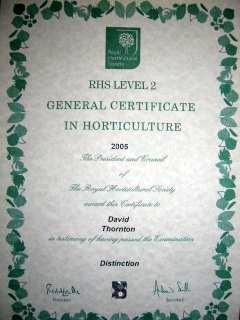 2005 Dinstinction in General Horticulture RHS 2007 Distinction in Tropical Agriculture (Agricultural Correspondence College) 2007 Bruce Fielding Memorial Prize for excellence in written work (Tropical Agriculture) and senior tutor prize. 3 Day volunteer at Royal Botanical Gardens Kew, working in tropical propagation.

I think I inherited my love of colour and form from my father, Leslie Thornton, sculptor and painter. Some of his work, stretching over three decades, and his C.V. can be viewved on the link below:-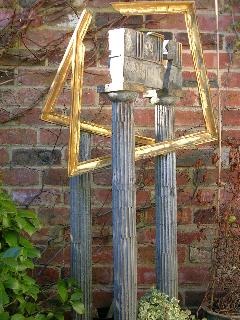 Odyssey Sculpture in the garden, Harrogate. Formerly exhibited at the Greek Embassy, London.

http://www.leslie-thornton.net

and

http://www.dave-aroid.demon.co.uk for paintings